<! BACKGROUND="">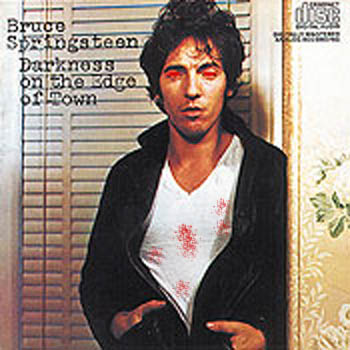 I'm on Fire
by
Bruce Springsteen
Last Update:

As I sat here on a holiday night, drinking sparking apple cider and eating summer sausage and smoked gouda on rye rounds, I thought, "what would be more appropriate for a holiday than an analysis of music?"
(I assure you, that was a rhetorical question)
The song I have chosen for analysis was a popular song by the perennial artist Bruce Springsteen. The song I'm on Fire, off his arguably most popular album Born in the U.S.A., received quite a bit of airplay and even had a music video. The video however, failed to fully convey the deeper, darker meaning behind the song. The meaning and intent that I intend to analyze here for all to read.
Hey little girl is your daddy home
Did he go away and leave you all alone
I got a bad desire
I'm on fire

Tell me now baby is he good to you
Can he do to you the things that I do
I can take you higher
I'm on fire

Sometimes it's like someone took a knife baby
edgy and dull and cut a six-inch valley
through the middle of my soul

At night I wake up with the sheets soaking wet
and a freight train running through the middle of my head
Only you can cool my desire
I'm on fire

(Lyrics taken directly from brucespringsteen.net, although honestly the song is clear enough to be easily written down from listening to it)
Hey little girl is your daddy home
Did he go away and leave you all alone

Serial killers prey upon isolated individuals. A person with an intense desire to kill won't get to indulge his cravings very often if he is caught with a knife in his hand and a body at his feet. Therefore finding victims alone is a part of the cold and calculating process. Ted Bundy was well known for his charm and often employed an arm cast so as to give the appearance of a disabled individaul. Unwitting victims would be asked for help to move an object, like furniture, and then be struck when they were least likely to be seen by others. A movie portrayal of this sort of abduction was well illustrated by the academy award winning movie "Silence of the Lambs."
Even if a murder is frequently seen as almost ritualistic, the typical singling out and isolation process of the victim is very important to ensure that the ritual can be carried out repeatedly over a period of months or years until capture. Andrei Chikatilo, the "Mad Beast" of Rostov, was responsible for 50 or more deaths over a period of 10 or more years. Despite his impressive body count it took many years for the law to catch up to him, in no small part due to the old Soviet Union's belief that "serial killers" were a western cultural phenomenon. However his technique of luring away small children and youngsters with promises of food, warmth, or employment would give Chikatilo ample opportunity to attack as he and his mark walked through the woods.
I got a bad desire
I'm on fire

A reinforcement of what we already know. The killer may feel some degree of remorse for his actions, somehow knowing that what he is doing is wrong yet is incapable of stopping himself. During the sentencing process for Gary Ridgway, the Green River Killer, Gary broke down in tears and begged for forgiveness from the families of his 48 known victims. This is the most number of confirmed kills for any one individual in US history. While others like the notorious H.H. Holmes has a possible body count in the 200+ range, many of the claims are unsubstantiated due in part to the less sophisticated crime analysis methods 100 years ago.
Just like a smoker knows cigarettes cause cancer, serial killers continue to be drawn towards their morbid urges. This irresistible lustmord, this craving for death, drives them to continue their acts. The sort of burning passion we have for a loved one is twisted within these individuals as a burning passion for their predatory behavior.
Tell me now baby is he good to you
Can he do to you the things that I do

While not very common, in some classifications of serial killers it is possible to find situations where the killer believes that death is a gift he is proffering to his victims. Such is the case of Efren Saldivar, the "Angel of Death." As many as 150+ elderly patients perished under his care. Initially he claimed that he was angered to see the suffering of the frequently terminally ill people he was caring for and chose to ease their passage to the afterlife. Later he recanted this statement and tried to plead not guilty to the murders. Not all of the dead were terminally ill and it is doubtful that every one of them specificially requested an end to their lives. In his twisted mind he may have believed he was doing them a favor. But it is not his right to make that decision.
I can take you higher
I'm on fire

Some serial killers believe that death has the power to grant the individual with supernatural powers, such as some practitioners of Santeria who believe that offering a human and/or animal sacrifice grants them invisibility to drug enforcement agents. Or in the case of Elizabeth Bathony the "Blood Countess," she may have believed that the blood of young female virgins would grant her continuous beauty and youth. Her appetite for sadistic blood rituals was such that when she was finally detained by authorities for her atrocities they discovered a log book which contained the names of 650 alleged victims.
Sometimes it's like someone took a knife baby
edgy and dull and cut a six-inch valley
through the middle of my soul

Masochistic behavior is not an uncommon trait among serial killers. Many spent their childhoods being physically or sexually abused by their care givers, resulting in twisted perceptions of how things are. Others are just plain insane and receive a thrill from self flagellation or mutilation.
Albert Fish is best known for his notorious letter written to the mother of Gracie Budd, a young girl that he turned into his main course over several days. After his capture he complained about pain he experienced when he sat down. X-rays later showed 29 assorted pins and needles in his pelvis that had been inserted manually via his perineum. This bizarre behavior also had an adverse effect on the electric chair that they used to eliminate this monster. The chair shorted out on the first attempt to execute him.
At night I wake up with the sheets soaking wet

Bed wetting is an interesting and controversial characteristic of serial killers. Much like someone who enjoys playing with matches at an early age won't necessarily become a serial arsonist, there's no concrete correlation that a chronic bed wetter late into life will become a serial killer. However, a significant portion of serial killers have reported being bed wetters past their young adolescence. But serial killers also often experience very troubled youths and bed wetting is often associated with a body reacting to some psychological discomfort such as chronic abuse. This of course begs the question whether the bed wetting is statistically significant or merely the biproduct of the abusive environment.
and a freight train running through the middle of my head

Many serial killers experience some forms of mental illness, whether the condition was brought on by severe physical abuse or some sort of defect. Henry Lee Lucas was a subject of the former. On a particular incident in his youth, his prostitute of a mother struck him over the head with a log, resulting in Henry going into a coma for a day. Only after the persuasion of her pimp was Henry taken to a hospital for care, and only because the pimp was convinced that someone would report the boy missing and lead authorities to him. Stemming from years of beatings by his mother, Henry frequently suffered from severe headaches. Later as a hardened criminal claimed that he heard voices in his head, including that of his mother whose life he had taken.
Headaches, dizziness, lapses of consciousness, and hallucinations are also common ailments of serial killers. "Son of Sam" killer David Berkowitz claimed that he was commanded by the devil to kill people when actually he was listening to the fervent caterwauling of two copulating felines. The "Night Stalker" Richard Ramirez suffered from seizures (although in his case all it did was isolate him from his peers rather than causing strange mental behavior).
Only you can cool my desire
I'm on fire

Serial killing is defined by multiple murders with a "cooling off" period between victims. The amount of time between murders varies, but just as survival and procreation are biological imperatives, the typical serial killer has a "down time" between kills much like resting between meals.
Serial killers are unlike mass murderers who kill their victims in one incidental period while in a heightened emotional state. In 1966 Charles Whitman killed 17 people and wounded dozens of others when he went off the deep end and used a bell tower at the University of Texas as his private human safari zone. Being a former US Marine, a military service branch with special emphasis on marksmanship, he was able to pick off people quite effectively from his vantage point. On the night before, he strangled his mother to death and stabbed his wife of four years. While these two murders were separate from the incident at the bell tower, this does not make him a serial killer. Serial killers don't start their careers by going into bell towers to gun down people until they are killed as well.
So there you have it. All of the symptoms described in the song can easily fit the classic profile of a serial killer. Perhaps this is Bruce Springsteen's subtle way of crying out for help? Could Bruce Springsteen have a trail of bodies of young virgin prostitutes that he sacrificed so he can continue to sell albums? Given the evidence before you I think the answer to that question is obvious.