05/18/1999 - Knights Templar vs Clan Bastards. An informal scrimmage. The BFG was not a factor as the maps played were Q2CTF2: Stronghold Opposition, Q2CTF1: McKinley Revival with no BFG, and Q2CTF3: The Smelter.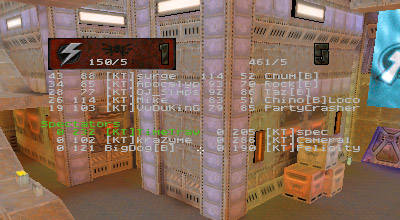 Time Traveler POV
Summary: Bastards outplayed Knights Templar in a fun match on the Stronghold. OJ Simpson made one of his rare appearances and put on his game face. Taz did it all and his flag running and Chum's defense made B's armor almost impenetrable. At least they coughed up one flag for a final score of 5 captures to 1.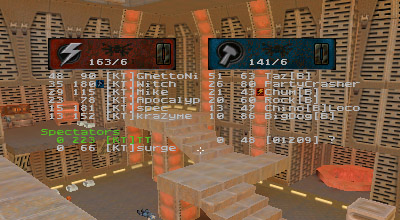 Time Traveler POV
Summary: The number of players was upped to six fraggers for each team, making for a surprisingly dull match. Somehow despite B's ping advantage the Knights were able to play keep away the whole match and eventually won by frags. I swear I saw several players on each side take naps while on guard duty and once even spotted Apocalypse taking a leak in the corner by the megahealth. Just goes to show that someTimes he just plain crosses the line of good taste.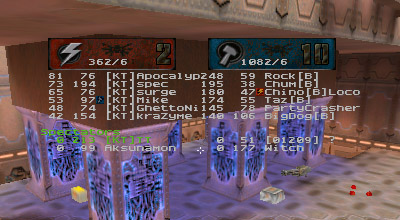 No Demo
Summary: Both teams eventually roused out of their McKinley induced comas and proceeded to whoop it up on The Smelter. Unfortunately it was the Bastards giving most of the whooping. Dr. Rock[B] opened up his frag clinic and everyone was invited for a free asskicking at half price. Knights still managed to do o.k. and stole a couple of flags from underneath the Bastards, but for the most part the tickets were free and the fat lady had sung. Bastards won this triple header 2 games out of three by winning this map 10 caps to 2. GG
Notes: Note my ping? Yes, this is a new trend that's been going on consistently now since Monday evening. As I write this (May 26) every night with the exception of Friday and Saturday (May 21, 22) has been a nightmare on the cablemodem. My ping is a nightmarish 200-400 to srf, where I traditionally ping 40-60. It has not been a problem during the day (on those rare moments I was home to enjoy the cablemodem) but as soon as business hours ended, the connection went to crap. The Mae-west backbone that serves @home customers in the Southland is completely saturated for whatever reason between the hours of 6pm and 1am.
Talking with Comcast technical support, they seem to be very aware of the problem and how it's affecting gamers but they claimed to have no direct control over how the mae-west backbone is maintained. The claim to be pushing the owners to try and fix the problem but ultimately they say it's out of their hands. On one hand I am understanding of the situation, but on the other I can't play the game worth crap now.
What is my theory? Someone has just subscribed to cablemodem service and has discovered how easy it is to get pornography via the net. Consequently, he sets his machine to leech pr0n all night after he gets home from work and hogs bandwidth until he goes to bed. On Friday and Saturday nights he was out with friends and therefore didn't burden the rest of us @home customers with his little vice.
Yes, that's a ridiculous story, but could it somehow have a ring of truth to it? Mae-west is perfect during business hours, when it should be the busiest with business transactions! Yet somehow when a lot of the activity should have died down, the problems begin. I don't have an answer. Well, maybe I do. DSL? Maybe.
[kt]
(c)1066AD [KT]Time Traveler
Suck it down, biatch.