<! BACKGROUND="">

What Fills the Void?



I found this tiny little folded up booklet on the floor of my Psychology class. I saw the following cover and immediately recognized it for what it was. I think these little booklets are really funny and kind of cool, so I thought I'd share this one with everyone.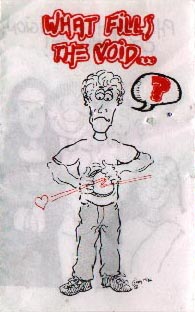 Perhaps it isn't immediately evident. That's ok you still have 4 more guesses.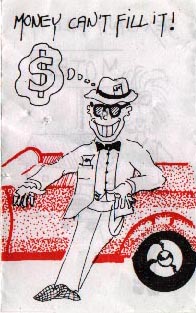 Still no clue? Money can't fill the void, but it sure can help you fly out of one.




Get drunk and get high. You'll feel muuuuch better.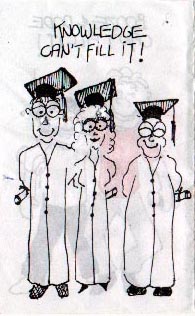 Knowledge doesn't fill the void, it helps to motivate you to find better void fillers.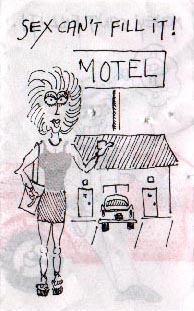 Ahhh, there you go. A little hoochie hoo-nanney action cures a lot.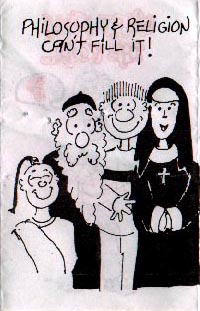 You're out of guesses. If you haven't figured it out yet, you're brain dead. Go away. Or read the text below.

Everone has an empty space inside of them which needs to be filled and so we begin to search for something to fill the void! You can try any of these examples, (you probably already have!) but you'll find that they can't fill it! Their satisfaction is only temporary, but you are always left with the same need! And it's the same with everything that this world has to offer!

There is however a person who is able to fill the void. He said - "Behold, I stand at the door and knock. If any man hear my voice and open the door, I will come unto him, and will sup with him and he with Me."

That door is the door to your heart, and the person is Jesus Christ! He alone can fill the void. He died to pay the penalty for your sins, but he also rose from the dead to give you life and to reunite you with God. This personal relationship with God is the only thing that can fill your need, because that is what your need really is. - and it's simple - just admit that you're a sinner, and ask God to forgive you. Ask Jesus to come into your heart and life and to be your Lord and Savior. Thank God, and pray it all in the name of Jesus!

Yes, fool, it's one of those religious booklets. Sheesh.